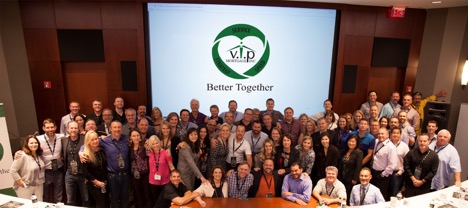 VIP Mortgage is humbled and honored to announce that Mortgage Executive Magazine named it #16 on the Mortgage Executive List of Top Companies to work for in America.
To pick the top companies in the industry, the magazine conducted an extensive survey of more than 10,000 loan officers. The survey asked them to rate company culture, loan processing, underwriting, compensation, management, marketing and technology.
Of the prestigious award, Jay Barbour said, "I am so proud of the culture and work environment VIP has established in the 10 years we have been in business." He continued, "We truly have a team of people who believe in working hard for others. It has become a VIP family – not a workforce. I am honored to accept this award on behalf of everyone here at VIP."
Starting with just one office in Scottsdale in 2006, VIP now has nearly 500 employees working in offices throughout Arizona as well as in California, Colorado, Hawaii, Wisconsin, and Florida; as well as being licensed in 25 states.